How to Download My Child Lebensborn on iOS
Many games come and go, but some are timeless, and they leave quite an impact on gamers. Today, there are so many state-of-the-art games that offer the best graphics and gameplay. But nothing can beat a game with a good story, mechanics, and a game that comes with lessons.
This is why simulation games are great since they allow players to get into the perspective of the characters. In My Child Lebensborn, you'll need to raise a child born in the war era.
What's My Child Lebensborn?
Published by Sarepta Studio, this game tackles the real effects of World War II, especially in children. The game was based on the real tales of the innocent after WWII in German – the Lebensborn program.
In this game, you as a Norwegian will need to adopt a child, feed them, and look after them all the time!
Here, you can choose if you'll assume a boy (Klaus) or a girl (Karin) who is around 8 years old and coping with different emotions. These children have experienced a lot!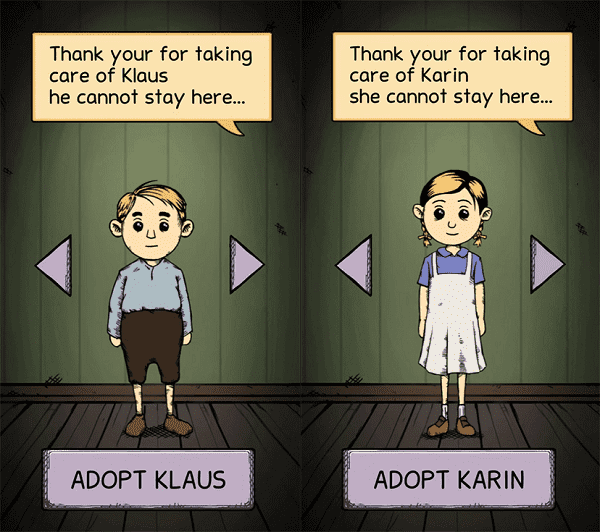 In its simplest form, this game features a time management system similar to playing Tamagotchi. But instead of a pet, you'll take care of a war child who's been through a lot.
Teknopilot, the developer of the game, says the game is an interactive documentary that allows players to feel the effects of war on children more vividly. Allowing them to adopt a war child and giving them choices can create emotional attachments to them.
You'll be given lots of choices on what to reply to, and you can choose how to spend your free time with your child. Your interactions and replies will have a significant impact on the development of the child.
Your job as a parent is to raise the child to become someone good. Here, you can choose what to reply to and say to your child. Be careful what you say, as it will affect them later on.
You can also take on a job to support your child and look after your child on your own. Can you tackle the deep emotions displayed in this game?
My Child Lebensborn For iOS Features
As mentioned before, My Child Lebensborn iOS isn't your typical simulation game. It's a unique one that tackles the effects of war on innocent children. With this, you'll get a first-person POV on raising a child that's been affected by the war.
In this game, you'll be in charge of the welfare of your adopted child. At the start, you'll be able to choose who you can adopt, whether it's Klaus or Karin. This is an important decision as you'll be able to see different stories and gameplay on each character.
In here, you'll have the chance to feed your child, talk to them and provide for them. The game does an excellent job of giving difficult situations that will test your morality and attributes. Here, you'll need to reply to your child and give instructions.
The game takes you from 4 to 6 hours to complete. So, to understand this game further, you may want to learn about its features:
Time Units – My Child Lebensborn is a simulation game which is why there are Time Units. Here, you can progress through the day by performing different actions and activities. Each activity costs a time unit here, so you should select what you'll do wisely.
New Mails – From time to time, you'll also receive mails from different people. This will allow you to know what's going on in the neighborhood and to receive messages, if any.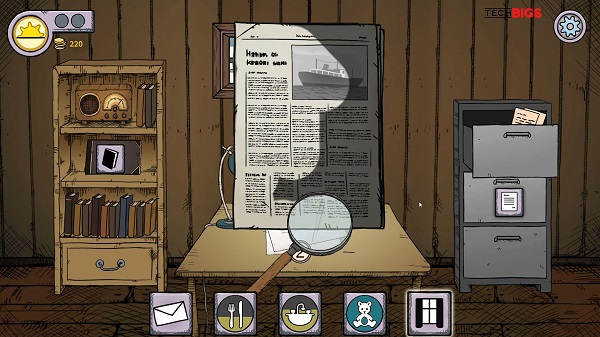 Bathing – In this game, you'll also need to keep your child clean, as indicated in the meter. It costs a time unit to bathe your adopted child, but it will positively impact the child. You can then wash your child yourself using the sponge.
Eating – Like a real child, you'll also need to feed yours in here! Your child can eat as much as they want for one time unit. You can also select what to provide here: a sandwich, soup, rice porridge, and more.
The Study – In the Study, you'll find the various mail, documents, and pictures you collected throughout the day. You can visit the study anytime you want! Reading many at once will also cost one unit of time.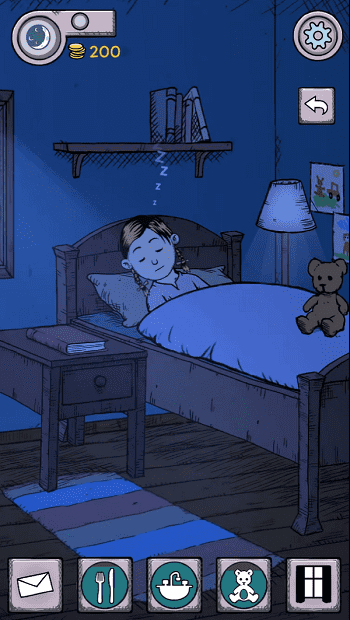 Sleeping – When it's nighttime, you'll need to make sure that your child will go to sleep. Here, you can read your child a bedtime story, or you can pat them to increase their comfort.
Ending the Day – To end the day, you can go to your child's room to turn off the light by tapping the lamp. This will immediately save the game and will let you start the next day.
Washing to Wake the Child Up – You'll need to wake up your child by washing her face on the bathroom sink. Doing so will not consume any time units.
Playing – As mentioned earlier, doing certain activities will cost you a unit of time. Likewise, you can spend one unit of time playing with your child here. You can play with your child with a ball.
Spare Moments – You'll only have seven time units per day that you can use in this game. This is divided into four time periods. During this time, you can do various things such as managing the household, working, and caring for the child.
Shopping – From time to time, you can also reward your child by going shopping. You can shop by going tapping the window to go to different stores. You can shop for clothes, food and other items.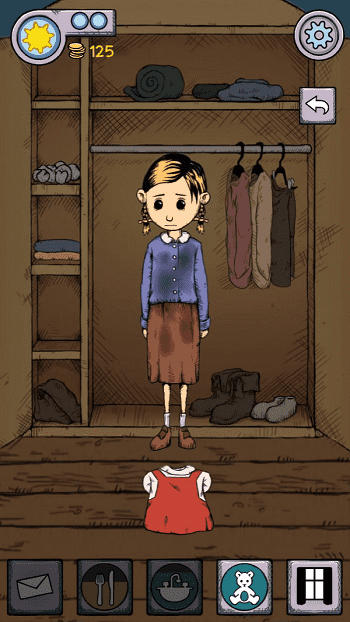 Changing Clothes – Your child will also need to change clothes which will cost a unit of time. You can find clothes in the bedroom closet.
Ingredients – You can make food for your child through the Kitchen Counter. You'll need to feed your child before the hunger meter reaches low levels! Cooking is easy as you need to tap the ingredients to make food which will cost a unit of time.
Drawing – Spend time with your child by drawing! This will increase the enjoyment of the child but will also a time unit.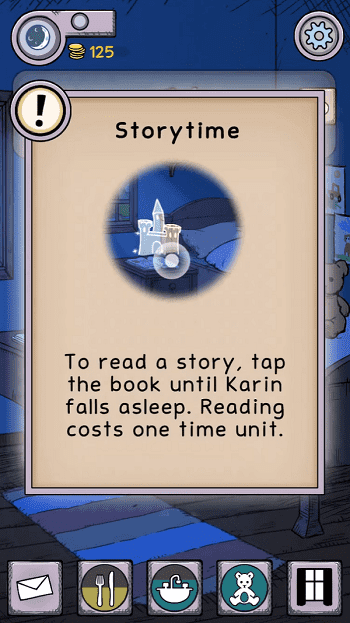 Storytime – To help your child sleep soundly, you can read them a bedtime story using a book. Tap the book until your child falls asleep! This will cost you a time unit.
The Outdoors – As you play the game, you'll gradually unlock different places such as the Forest and Lake. You can then take your child outdoors to enjoy other activities like collecting mushrooms, blueberries and cooking these ingredients!
Crafting – You can also spend your spare time crafting or mending items. This includes different clothes for your child.
Going to school – You'll also need to send your child to school. Here, you can go outside and tap on the red building. Take note that the school lasts until the afternoon so you should also spend your time wisely until then.
Journal – Here, you can also keep a journal of the things you've done, how you feel, and the state of your child. You'll find heavy topics in the journal, such as the war and your child's parents.
My Child Lebensborn Tips
The best tip we can give you is to choose the right one every time. Although this is difficult, it helps if you keep the balance between being strict and lenient.
As much as possible, you should also spend a lot of time playing and talking with your child. As you know, your child is a victim of war, so they're bound to have some nightmares and struggles later on.
To complete the game, you must always look at the different meters displayed, which is an indicator of the different statuses of your child. You should always strive to keep these meters full!
Where to Download My Child Lebensborn for iOS/Android
As you can see, My Child Lebensborn is a fantastic game to play. If you want to play it today, you can get it here: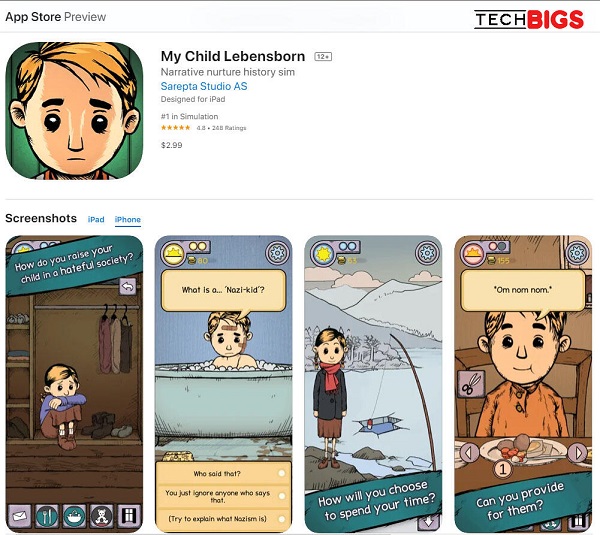 Android ($0): My Child Lebensborn Mod APK

iOS ($2.99): https://apps.apple.com/app/my-child-lebensborn/id1298544927